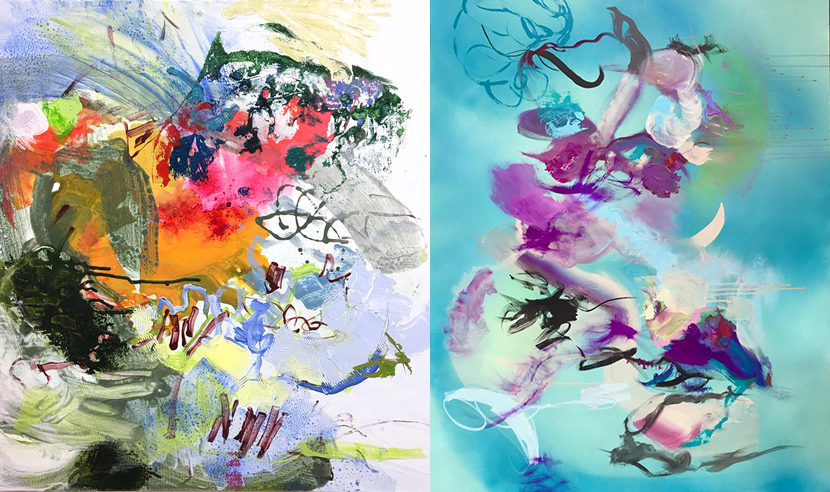 An exhibition of works by Sonia Bombart & Heide Follin
Curated by Maxim Schmidt
The works of Heide Follin and Sonia Bombart seem to seamlessly communicate with one another; both carry deeper vitality and vigor within their abstractions. Showcasing the skilled experimentation with varied mark-making and brilliant-saturated palettes, Emotional Environments displays Follin and Bombart's work as exemplary examples of the synthesis of energy, mood, and atmosphere.
Artist's Statement: Heide Follin
Inspired by nature, I weave together my work with lyricism and abstraction. Color and actions describing natural phenomenon are put down as just paint and somehow something magical happens among the mark making and layering. As I embrace the unexpected — lines, x forms, curves and triangles found in the environment coalesce as a life force in my work.
Close ups of botanical specimens as well as expansive landscape engage me, including subject matter as diverse as Himalayan prayer flags and Connecticut gardens. Playing with viscosity, flat areas contrasting shiny, vibrant color singing against adjacent hues, textures and meandering lines, I uncover patterns and detail, transforming it into something else.
Among the artists that make me look and look again are Dana Schutz, Carrie Moyer, Neal Welliver and Lois Dodd.
I listen to my emotions where color is concerned.
There is joy in vibrant clean colors put down in an inventive way.
A variety of mark making is essential.

Website: heidefollin.com
Instagram: @heidefollin
Artist's Statement: Sonia Bombart
My canvases reflect an enlightened upbringing. I was raised in a culturally rich, sophisticated family in Mexico City. I bring an inventive flair based on a blend of an extensive participation in dance, voice, theater, multi-media production, and music. I studied computer animation at the Art Institute of Fort Lauderdale combined with numerous formal classes in visual arts at the Center of Contemporary Printmaking in Norwalk, CT and the Silvermine Art Guild in New Canaan.
I begin by applying a thin base of spray paint followed by a variety of strokes and gestures, with thin and thick brushes, various palette knives, sticks, and even her fingers to make a spontaneous mark. I use various mediums and tools such as acrylics, acrylic fluids, inks, gouaches, sprays, gels, water, and most recently exploring with stone clay to make what she calls sculptural paintings. Music is a heavy influence for my work, as it is used to set the mood. Palette choice is essential as it works in unison with the music that I listen to. My work process is never the same, varying as I create different moods and outcomes. I continuously push myself to edit and re-edit the pieces, creating organized and playful chaos.
A dance of color and motion.

Website: soniabombart.com
Instagram: @soniabombart
Description of Exhibited Works
FROM TOP LEFT:
Heide Follin, Dove and Parrot, 2018, acrylic on canvas, 24" x 30"
Heide Follin, A Breeze, 2018, acrylic on #300 watercolor paper, 30" x 22", framed 36" x 27.5"
Heide Follin, Night on the Town, 2018, acrylic on #300 watercolor paper, 30" x 22", framed 36" x 27.5"
Heide Follin, Beetle, 2018, acrylic on canvas, 24" x 30"
Sonia Bombart, Agave, 2018, mixed media on canvas, 36" x 48"
Sonia Bombart, My Prerogative, 2019, acrylic fluids on paper, 27.5" x 34.5"
Sonia Bombart, Sunset on Planet X, 2018, mixed media on canvas, 36" x 36"
Sonia Bombart, Anath, 2018, mixed media on canvas, 38" x 48"